Posts tagged White roses
White roses meaning: a symbol of virtue and purity, sincerity and chastity. A symbol of innocence and pure love straight from the heart, simple and pure.
Sometimes called "the flower of light", one of the meanings of white roses is everlasting love – love stronger than death, an eternal love, undying and all sustaining. White rose speaks of a love that is sustained more by loyalty, reverence and humility than by red-blooded passion. So, in its capacity to worship someone till death, the meaning of a white rose is unchanging loyalty that endures beyond all else.
The most famous meanings of the white rose arise from mythology. Many of these surround Aphrodite (Venus) as Goddess of love. She sprang forth into life from the foaming sea, and where the foam fell to the ground, white roses grew.
This and later myths about Aphrodite display the dual nature of love: purity and innocence represented by white roses; desire and sexual gratification by red ones. In one story she runs to help her wounded lover Adonis and catches her flesh on the thorns of the white rose bush. Her blood falling on the bush turns the roses red, symbolizing the way innocence and purity change to experience and motherhood.
Below you will find examples of stunning wedding bouquets and wedding flowers showcasing the pure and simple white rose, whether it be a bouquet simply made of all white roses or white roses mixed in with other stunning flowers, enjoy!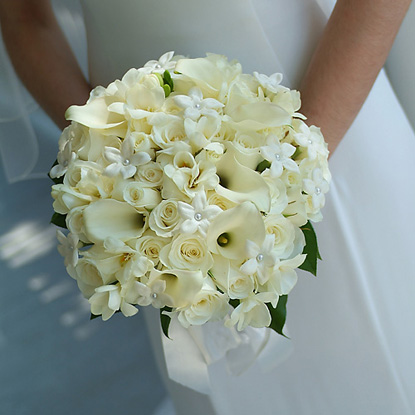 A wonderful white bridal bouquet for the bride with roses, calla lilies and stephanotis.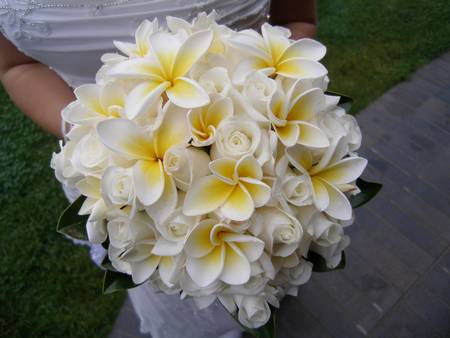 Stunning tropical style posy of white akito roses with white (yellow centre) frangipani. Source